Product Overview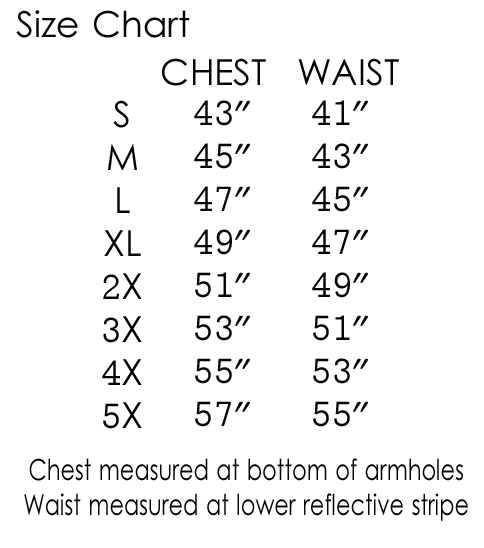 Reflective "Protect This Rider" graphics adorn the back of this zip up safety vest. The stripes are also reflective allowing you to be seen day and night. They run roomy to fit over jackets if desired so if you don't want to put it over a jacket go down in size. Check the size chart above. Front pockets, side slits for great fit when sitting. 100% Polyester Tricot
* All graphics are protected by copyright laws, unauthorized use is prohibited
Reviews
(5 reviews)
Write a Review
5

Protect this Rider - Hi-Viz Pink Safety Vest

Posted by Gwenn Gee on 11th Jul 2019

It fits over jackets, and shirts. I love the hi-viz color and wear it with pride. Hopefully, people see me coming when I'm wearing it.

5

Safety vest

Posted by Teri Dean on 25th Nov 2018

Lightweight, visable, comfortable vest. Here in Florida you want to be seen, but not sweat to death while doing so. Not to mention it is a Steel Cowgirl product

4

sizing

Posted by Heidi on 12th Aug 2018

I would have gave this 5 stars but it didnt fit. Im very busty and I usually have to order this size just to get the girls in, but this has no give whatsoever and so I wear it but am unable to zip it. Maybe start making them with snaps so snap extenders can be used. Love the product! Go Steel Cowgirls!

4

Can you see me now??

Posted by dusty price on 16th Aug 2016

After wearing the hot pink vest, I felt like being on a commercial asking 'can you see me now??' I wore it over my leather jacket to make sure it would accommodate multiple layers and not bind - wears well. The only reason it gets 4 stars instead of 5 is the short zipper, which allows a bit of wind to catch and billow out the top. Otherwise, great buy!!

5

Ladies HiViz Pink Reflective Vest

Posted by Gabriele Capps on 17th Jun 2016

High quality product. Size chart is very convenient. Vest fits great.